ABC Program Completes 18th Year With Over $1.3 Million in Donations
May 06, 2019
Denver, CO (May 6, 2019) – This year Sunflower Bank and First National 1870 are giving a total of $83,046 in donations from the ABC Program to schools and students in their local communities. Since its start in 2001, the ABC Program has given away $1,321,000 in support of education in Colorado, Kansas, Missouri, New Mexico and Texas.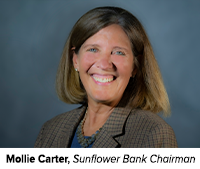 "We'd like to thank Sunflower Bank and First National 1870's customers and communities for helping make this year's ABC Program a success," said Mollie Carter, Chairman of Sunflower Bank. "The ABC Program is an important way that we partner with local educational and financial literacy initiatives everywhere we serve. Providing much needed support to local schools and encouraging academic achievement in our youth is how we help make possibilities a reality for our communities."From January 1 through March 31, 2019, the bank made a donation to schools based on every Spend & Sign & Save checking and savings account package opened and registered to a participating school, and through "Cash for Swipes" when school-registered debit cards were used for signature transactions.
In addition, Sunflower Bank and First National 1870 branches invited all students to bring their report cards to their local branch for a chance to earn up to $100 for their As. Five "Pay for As" report card winners were chosen per branch, and registered schools received a matching donation if one of their student's report cards were chosen.
Plans are underway to bring the ABC Program back to Sunflower Bank and First National 1870 for a 19th year.
Visit a local branch, SunflowerBank.com or FirstNational1870.com to learn more about the bank's support for its communities.

Media Contact:
Jeanne Lipson
VP, Marketing Manager
915.881.6785 | [email protected]