Additional Roles Announced for Key Kansas Leadership
March 26, 2020
Sunflower Bank is pleased to announce that key leaders in its Kansas regions have taken on new roles with additional responsibilities. Sunflower Bank is a $4 billion regional community bank committed to delivering local decision making with large bank solutions to 14 markets across Kansas. The bank was founded in Kansas in 1892, and today has grown its footprint to include locations in Arizona, Colorado, Missouri, New Mexico and Texas.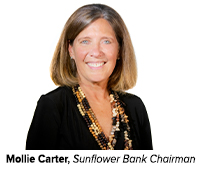 "At Sunflower Bank, we are proud of the depth of talent our leadership brings to our customers and communities. Mark Stauffer, Cheryl Campbell and Eric Comeau demonstrate a commitment to excellence in all they do, and I am honored to congratulate them on their new roles," said Mollie Carter, chairman of Sunflower Bank. "Sunflower Bank's roots are in Kansas and these leaders perfectly carry on our tradition of providing strength, stability and expertise. We also want to thank Glynn Sheridan for his countless contributions to the bank and our customers as he prepares for his upcoming retirement."
Mark Stauffer is now the regional president for Central Kansas. In this role, he is responsible for the strategy, management and growth of the bank in Wichita, Salina, McPherson, Manhattan and Junction City. An experienced leader with a successful track-record of managing large teams, Mark joined Sunflower Bank in November 2018 as the market president for Wichita. He has over 25 years of experience in financial services with expertise in relationship management and sales management, servicing a customer base in a variety of different industries throughout the US. Mark can be reached at 316.652.1212 or [email protected].
Mark succeeds Glynn Sheridan, who recently announced his retirement after 18 years with Sunflower Bank. During his tenure, Glynn held leadership roles in several markets, growing the bank organically and through de novo operations. He is assisting in the transition of his responsibilities and will be fully retired as of June 1, 2020. Glynn can be reached at 785.727.1058 or [email protected].
In Salina, Cheryl Campbell has been promoted to be market president. Cheryl has been at Sunflower Bank for almost 25 years and is recognized as an extraordinary relationship builder and leader. Most recently, she led the retail line of business in Sunflower Bank's Salina, Lawrence and Metro Kansas markets partnering closely with commercial teams to develop complete customer relationships. In this new role, Cheryl will work together with regional president, Mark, to develop and strengthen relationships with Sunflower Bank's customers and the Salina community. Cheryl can be reached at 785.826.2235 or [email protected].
Additionally, Sunflower Bank has shifted the Lawrence market to be a part of its Metro Kansas region led by regional president, Eric Comeau. Eric has nearly 30 years of commercial banking experience and joined the bank in 2015 becoming Metro Kansas regional president in January 2016. The Metro Kansas region has thrived under Eric's leadership and now includes Lawrence, Leawood, Overland Park, and Southcreek, KS, as well as Briarcliff (Kansas City) and Leeton, MO. Eric can be reached at 913.202.7889 or [email protected].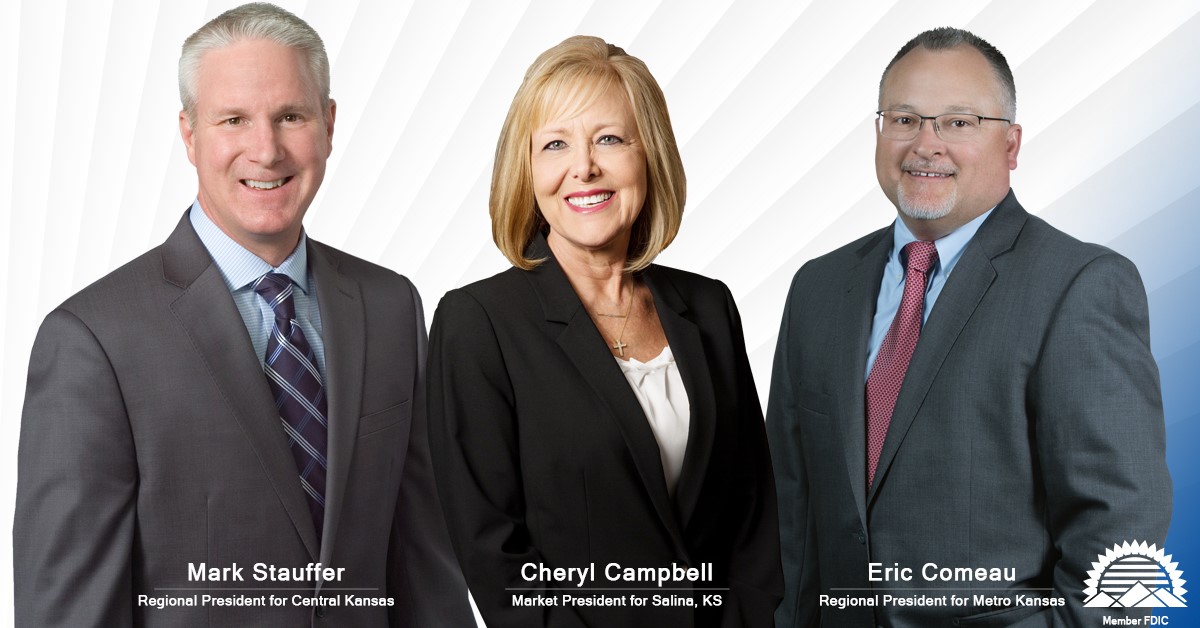 Media contact: Jeanne Lipson | VP, Marketing | 915.881.6785 or [email protected]