FirstSun Capital Bancorp Reports Third Quarter 2021 Results
October 28, 2021
Third Quarter Highlights:
Net income of $8.7 million, $0.46 per diluted share
Return on average assets of 0.62%
Return on average equity of 6.68%
Deposit growth of 9.2% annualized
Loan growth, excluding PPP loan balances, of 11.0% annualized
DENVER, CO - FirstSun Capital Bancorp ("FirstSun") reported net income of $8.7 million for the third quarter of 2021, compared to net income of $11.3 million in the prior quarter and $14.8 million in the third quarter of 2020. Earnings per diluted share was $0.46 for the third quarter 2021, compared to $0.60 in the prior quarter and $0.81 in the third quarter of 2020.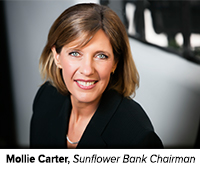 Mollie Carter, FirstSun's Chairman and Chief Executive Officer, commented, "We continue to build momentum in our business with strong growth in C&I loans, excluding PPP balance forgiveness, and deposits. As we continue our strategic investments in the business, most notably in the Southwest, we are pleased with the growing diversification across our regions and business lines, as well as the strength of our fee business offerings. We maintain our belief in relationship banking and strong underwriting as evidenced by our asset quality metrics, including our year-to-date annualized net charge-off ratio of six basis points."

Please click on the following link for a PDF file containing the full text of the press release:
FirstSun Capital Bancorp Reports Third Quarter 2021 Results