A cybersecurity vulnerability with third-party software provider, MOVEit, has impacted thousands of companies, including Sunflower Bank. << Learn More >>
Sunflower Bank Logo Added to El Paso Skyline with Two New 117-Foot Wide Signs
February 18, 2021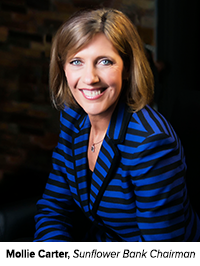 El Paso, TX (February 18, 2021) - We are pleased to announce the completion of our signs at the roofline of 201 E. Main in downtown El Paso, Texas. The Sunflower Bank logos displayed above the 18th floor mark the bank's status as anchor tenant of the building known as ONE San Jacinto. The full-service retail branch on the second floor provides personal, commercial, business and international banking, along with home loan services from Guardian Mortgage.
"We are so excited to have the Sunflower Bank logo become part of the El Paso skyline. Moving to the second floor of 201 E. Main and becoming the anchor tenant in this iconic downtown El Paso landmark is a statement of our commitment to the region, and our belief in the strength of its community and its economy," said Mollie Carter, chairman of Sunflower Bank.
Sunflower Bank moved into its newly renovated space in July 2020 after being located on the third floor for more than eight years. The second floor bank lobby features a public art exhibition of the El Paso Children's Hospital Child Life's Therapeutic Arts Program. The downtown branch is one of Sunflower Bank's three locations in El Paso. Ernesto Avila, regional president for El Paso and Las Cruces, has led the bank locally since 2018 after first joining its predecessor, Capital Bank, in 2010.
"The office tower at 201 E. Main has a longstanding history as a financial institution-anchored building, beginning with its completion in 1962 for the El Paso National Bank until late 2017," said Jamie Gallagher, senior vice president of Franklin Mountain Property Services. "We're pleased to have Sunflower Bank take up this tradition in our building. The rooftop signage is a welcome addition to the beautiful skyline of downtown El Paso."
There are two Sunflower Bank signs, each 117 feet wide, displayed on the northern and southern sides of the building. The logo icon that combines a sunflower with mountains to represent Sunflower Bank's wide footprint and deep roots in its geographies, is 15 feet high and weighs approximately 1,200 pounds. The capital letters in Sunflower Bank are 10 feet high and weigh 500 pounds each. The LED-lit letters of "Sunflower Bank" shift from a black display during the day to being all white at night. The signs use leading-edge LED lights that are extremely energy efficient. Powering one complete sign requires only 19.8 amps, similar to the amount of electricity needed to run kitchen appliances such as garbage disposals.
The sign installation was performed by Superior Sign & Lighting of El Paso. Alex Del Moral, president of Superior Sign & Lighting stated, "We are always excited to take on projects like this in our hometown. We believe in El Paso's growth and changing the skyline is a tangible measure of this growth for our customer, Sunflower Bank, and for the business expansion opportunities they help create."