Sunflower Bank Promotes Brian Walsh to New Role of DFW Market President and Hires Additional Banking Industry Leaders
August 18, 2021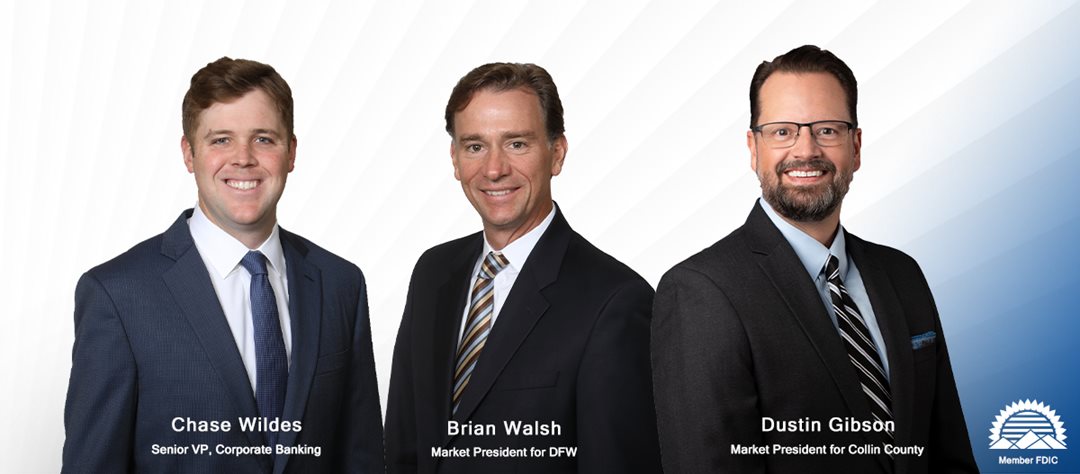 Sunflower Bank is pleased to announce its continued growth in Texas with the promotion of Brian Walsh to Market President for the newly created DFW Market that includes the dynamic Dallas, Tarrant and Collin counties. In this role he leads a team of banking industry leaders that includes recently hired Dustin Gibson as Market President for Collin County, and Chase Wildes who has been promoted to Senior Vice President of Corporate Banking.
This expanded focus in DFW reflects Sunflower Bank's commitment to building relationships with the businesses that drive the metroplex's economies and communities. Sunflower Bank is a $5.5 billion regional community bank committed to delivering local decision-making with large bank solutions to locations across Arizona, Colorado, Kansas, New Mexico and Texas.
"I am excited to continue the great success of Sunflower Bank in Texas. DFW is the top market in the country with a diversified economy, well-known corporate relocations and ongoing population growth. Our goal is to support owner-managed businesses, family offices and private equity firms with a suite of banking services and customized lending solutions. It is wonderful to see our approach to building a community-focused bank that has all the services for middle market relationships resonate so well with the DFW market. This is also reflected in the fact that we are attracting the best banking talent to join our team," said Brian Walsh, Market President for DFW.
Brian was hired as the bank's first Dallas Market President in July 2020. He also leads Sunflower Bank's Technology Lending practice focusing on the tech corridor of Austin, Dallas, Denver and Salt Lake City. Through this specialized practice, Sunflower Bank manages and executes full banking relationships with national middle market technology, media and telecommunications companies.
Brian can be reached at 972.806.9504 or [email protected].
Dustin Gibson joined Sunflower Bank at the beginning of August 2021 as Market President for Collin County. In this role, he will establish a community presence and develop commercial banking relationships with the lower middle market companies that make up the economy of the fastest growing county in Texas. Dustin has been in the banking industry in Dallas for 25 years, providing loans and commercial banking services to entrepreneurs and companies across Texas. As a former entrepreneur, he offers a unique perspective to business owners. Dustin is active in community organizations including Responder Impact, a ministry for first responders in Frisco's Police and Fire Departments, and has served for 10 years on the Board of The DFW Finance Forum, a professional networking group in Dallas.
Dustin can be reached at 972.806.9509 or [email protected].
Chase Wildes focuses on private equity, family office-backed and specialty finance transactions as part of the Dallas Corporate Banking Team. Before joining Sunflower Bank as Vice President in June 2020, he held progressively more responsible roles in corporate and commercial banking. Chase serves as a Board Member for the Yellow Rose Gala Foundation that benefits efforts to find a cure for Multiple Sclerosis and is a volunteer youth lacrosse coach.
Chase can be reached at 972.806.9501 or [email protected].
Sunflower Bank's Dallas presence has grown rapidly over the past year, requiring a recently completed renovation to significantly increase the capacity of its 8117 Preston Road location just months after it first opened. Additional local specialty services include healthcare financing, loan syndications, asset-based lending and treasury management.