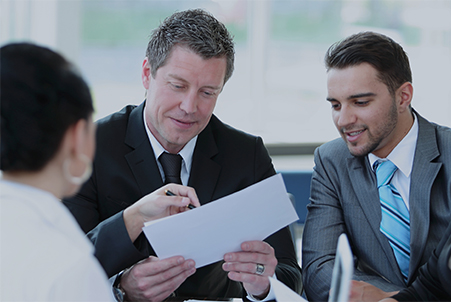 Advantages of Partnering With a Community Bank
09/27/19
Commercial banking is a relationship-driven business that is difficult to commoditize. Our philosophy is that businesses should choose a bank that is the right size fit for their business. If you are a family-owned or mid-sized business, then you should be with a community bank – one that gets to know you, will take the time to educate you on various options and resources, and does not treat you like a number. That's why our community bank model backed by capital strength and scale is perfectly positioned to deliver this service to locally owned business clients in each of our markets.

These are the three attributes we believe a community banking partner should exemplify for its commercial clients:
LOCAL KNOWLEDGE + STRENGTH | Businesses should be able to sit across from their banker, credit approvers, and other members of their financial team, and look them in the eye. Personalized service makes it easier to tailor solutions to each operation and the people involved. We have dedicated market leaders who strive to take care of customers' banking needs with a broad array of competitive credit and treasury management products and services to effectively support day-to-day functions and long-term aspirations of business clients. Employees of community banks are also likely members of the community themselves. So, they tend to be better equipped to understand the specific needs of the communities and businesses they serve. Our employees at all levels of the organization are encouraged to get involved in the community and donate their time to local causes.
LOCAL CREDIT APPROVALS | While national banks rely on centralized credit approvers who focus on the numbers, community banks are more likely to take an in-depth view of a credit request, looking at other factors and bringing in local perspectives to drive decisions – which can be a benefit for the business owner. Throughout the entirety of our bank's footprint, loans are approved by local teams that take qualitative data into account when reviewing commercial client loan requests, for a more holistic evaluation. Our bank has rejected the traditional loan committee process in favor of a locally driven structure designed to both be responsive and ensure that the bank gets to know each client's business inside and out.
PERSONAL RELATIONSHIPS, QUALITY BANKERS | Whether business leaders are looking for assistance with loan consolidation, refinancing, expansion or acquisition, equipment upgrades, technology investments, or other details, it's vital to find a partner. A true partner is a bank that is willing to advise and be a partner for the future; but is also willing to have hard conversations. A bank that simplifies and supports, while being real with customers every step of the way. A bank that focuses more on the solution than the product. This is the model that we follow. Customers also benefit from a bank that fosters teams that are both experienced and warm. Its people should sincerely care about the customer, while still possessing expertise and good reputations in the market.
We are proud to offer community bank customer service with large-bank solutions. When business customers call, a real banking professional – not a call center – answers the phone. To find out how this approach can create possibility for your business, contact a local commercial relationship manager. We look forward to meeting you.
Business