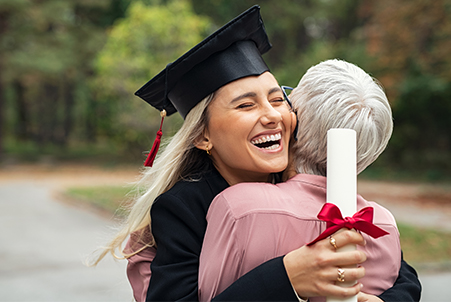 Financial Mistakes to Avoid After Graduation
06/10/20
For many people, the college years are some of the most unforgettable of their life – the completion of that journey providing wonderful memories and experiences to fondly look back on for years to come. But when certain realities of life immediately after college hit, many graduates find themselves feeling financially unprepared, and post-graduation can succumb to very common money mistakes. If you can relate, and are looking to start out your financial journey on the right track, you've come to the right place. We are here for you and have collected some of the essentials for good finances.
Budget
Once you graduate and start making a disposable income, you might be tempted to spend your hard-earned paychecks on things you've always wanted – after all, you have your whole life ahead of you to save money, right? Well, while we can all agree that occasionally treating yourself in life is important, spending the lion's share of your paychecks on those special little rewards may not be a wise move. Start by being realistic about the lifestyle you can actually afford. The best way to reach that decision starts with budgeting to better ensure your financial success.
Creating a budget will help you see exactly where your money is being spent, and make sure you first account for essential expenses such as utilities and groceries. A budget will also help you recognize wasteful spending (intentional and unintentional), so that you can take corrective action. Many times, people find they are paying for things they didn't even realize, such as a subscription service they thought was canceled. Once you get into the regular habit of budgeting, you can keep yourself aware of all those areas in which you can save money and work toward your financial goals. For helpful tips on how to start an effective budget, visit our blog.(Opens in a new window)
Whether you are a saver or a spender, more than likely you still have debt from college. Which brings us to our next topic…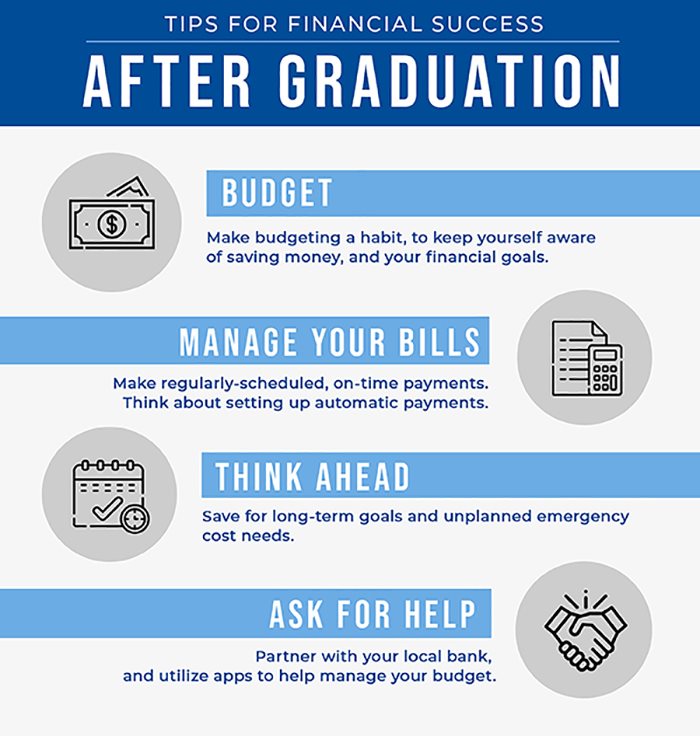 Get in the habit of making regularly scheduled, on-time payments on your loan, and consider setting up automatic payments. On-time payments can increase your credit score slowly but surely, but overdue payments can negatively affect your score surprisingly quickly.
Being financially credible to lenders when it is time to take out larger loans such as a home mortgage will be an asset to you, and can be a factor in decreasing future interest rates. Having "manageable debt" means that payments and the principal balance are seen as being realistically affordable, and that there is a recognizable timeline for an eventual pay-off in sight. On the other hand, careless spending can unfortunately be a very easy way to rack up consumer debt. Think of it this way: if a paycheck provides security, then debt should give a sense of caution, especially if unforeseen changes occur (such as job loss or income reduction). Determine a timeline for eliminating your individual debts, including your student loan and credit card debt, and stick with it.
Think Ahead
While some milestones in life such as retirement might seem very far in the future to you, the fact is that money wisely invested now can work "harder" for you over time, and reap substantially greater dividends when those significant life events come around.
To get started, take a look at the following options as good long-term goals to begin thinking about:
Retirement
Take advantage of your employer's 401(k) benefits(Opens in a new window) plan, if they offer it. Many young professionals do not consider this necessary, but it is a great way to start securing your financial future early on, and avoid stress later in life. Most banks also offer retirement planning services and consulting to help you along the way.
Future Home Down-Payment
Purchasing your first home can be one of the most exciting, and also one of the most intimidating, experiences of your life. Saving for your down payment is a critical step in preparing to purchase your future home. To learn more about saving for your first home, visit our blog(Opens in a new window).
Emergency Fund
Throughout your post-college journey, inevitable emergency expenses will occur. The question is, will you be prepared to make these unexpected payments? We recommend working towards having an emergency savings fund, starting at $1,000, as soon as possible. This will help secure your finances when you need to fix that flat tire or broken window. Your emergency fund can also help with overlooked or unanticipated expenses, such as those associated with renting an apartment or house – expenses that may include a security deposit, renter's insurance, pet fees, parking fees and more.
Ask For Help
Learning to be financially independent can be understandably stressful. But helpful resources, such as your local bank, are there to guide you through the process and make the transition successful. Most banks offer digital banking and online educational tools to help you navigate your way. In addition to this, there are many digital apps through which you can manage day-to-day financial tasks such as your personal budget, right from your smart phone or tablet. You may be new at managing your money, but you definitely do not have to do it on your own.
How you choose to manage your finances today will help shape your financial future, and the services and solutions at Sunflower Bank N.A. can help you create the future of your dreams. Discover how our personal banking services(Opens in a new window) can help.
Banking Education