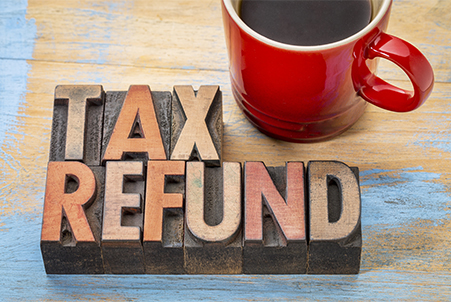 Get Return on Your Return
04/30/19
If Uncle Sam gives you money back at tax time this year, it can feel like an unexpected bonus. Do you consider it "free money" and spend it on something fun and frivolous? Or do you take a different approach and figure out how to reinvest the funds? If you're on the receiving end of a check after filing your taxes this season, consider some ideas on how to get the most out of your earnings.
Stock your emergency fund
First things first – Make sure that you're following simple guidelines that can help set you up for financial success. One of the 8 Essential Financial Tips that everyone should practice is to establish an emergency fund. If you don't have a full 3 months of living expenses tucked away in an account, this is the first thing your refund can be used for. Unexpected occurrences like the loss of a job or medical expenses can really wreak havoc on your financial stability, so having a back-up fund is essential in protecting yourself from future fiscal damage.
Make a dent in your debt
High-interest credit cards can dig you into a hole that feels impossible to climb out of. Put your refund to work by making a payment on your highest-interest credit card first. It's also important to budget for more than just the monthly minimum credit card payment if you're working to reduce debt. If you want to explore what other options you might have for lowering interest, our bankers can help you take a look at debt consolidation. Pay off your highest-interest loans and move towards being debt-free.
One extra mortgage payment
Did you know that just one additional mortgage payment per year can save you thousands of dollars and possibly years over the life of your home loan? Use the calculator(Opens in a new window) from Guardian Mortgage to estimate the savings of extra payments or increased dollar amounts on your mortgage payment. Of course, you'll want to check with your lender to make sure there are no stipulations about extra payments or prepayment penalties, but for the most part it's a winning idea for your refund check.
Remember, your tax return is money that belongs to you. Getting a refund is essentially getting back what you've loaned to the government at 0% interest, so when you receive it make sure that it's going to support your best
Banking Education