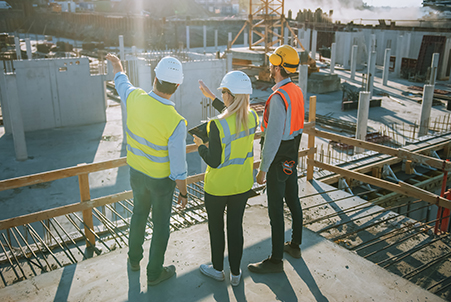 Navigating the Commercial Construction Lending Process
04/23/23
From new start-ups to established companies, businesses of all shapes and sizes often find themselves with a need for new space. For many, this will mean obtaining a commercial construction loan to either build new or renovate an existing property. If you're looking to build or renovate a commercial building, understanding the commercial construction lending process and what to expect from your team – specifically your banking partner – is imperative to your project's ultimate success.
Commercial construction loans are beasts unto themselves. They include intricacies not seen in many loan types. Commercial lenders must have a firm grasp on:
The various people involved in the loan process, the sheer number of which is greater than with a typical loan,
Scheduling and monitoring the disbursement of funds through draw requests instead of providing the full loan amount in a lump sum, and
The best loan options for various types of businesses.
At Sunflower Bank we believe in creating possibility through relationship-focused banking. We're here to help you every step of the way as you embark on your commercial construction project. That starts with helping you understand the ins and outs of the commercial construction loan process.
What is a commercial construction loan?
A commercial construction loan is a loan taken out with a lending partner to fund the construction of a new building or renovation of a pre-existing building. From headquarters to warehouses and everything in between, these projects are imperative to business growth. Loan funds can be used for land, permits and surveys, labor costs, materials, etc.
How does a commercial construction loan differ from other loans?
The main difference between a commercial construction loan and other loans is that you do not receive the full loan amount when the loan is secured. Instead, as your project hits certain milestones, your contractor will submit draw requests along with proper documentation to obtain the release of funds. The funds are then used to pay the involved parties for completed work. Your lending partner will help you develop a draw schedule as one of the first steps after securing your loan. As each milestone is met, a draw request is submitted to your Construction Loan Administrator, who will verify the completion of the work before releasing payment. As we'll discuss later, if draws on your loan take place out of turn, your project may be at risk.
Another important difference in a construction loan involves interest payments. With a typically-structured commercial construction loan, the borrower will only pay interest on the amount of the loan disbursed, until the construction draws complete. After the construction loan amount has been distributed, the borrower will need to pay off the principal. Rather than making a lump sum payment, the borrower may transition to a commercial mortgage with monthly payments.
Who are the key players?
As you can imagine, with a project as large as a new construction build or a full-scale renovation, there are many parties involved. These players include the borrower, lender, title company, construction company, as well as the borrower's attorney, CPA and other borrower representatives.
What to expect from a bank providing commercial construction lending.
While many banks may offer commercial construction lending, not all commercial bankers or banks are created equal. When looking for your lending partner, look for a bank that:
● Has a credit team that is experienced in structuring construction loans and monitoring draws,
● Has the relationship management skills to deal with the multiple parties involved,
● Has the ability to recommend loan structures, including SBA loans which can provide better terms than those offered through most conventional products.
What to monitor during your commercial construction project.
One of the most critical components to monitor during your construction project is draws on your loan. If draws take place at the wrong time or before construction milestones are met, you can end up in a tight spot financially. For example, if your contractor is paid before completing services because draw requests are not properly vetted, you could deplete your loan before project completion. This could result in you needing to fund the construction project out of your own pocket or use other assets to pay for the remaining required work. Your company representative, bank and title company should all be monitoring draw requests and ensuring work is fully completed prior to payment. This checks and balance system will help ensure you don't experience the headache – and often heartache – that comes with improper draws on your loan.
A lot goes into commercial construction loans. If the borrower's bank and supporting partners don't work together, monitor the project closely and do their work correctly, the borrower can end up in a tight spot. If you're considering a commercial construction loan, reach out to your local commercial lending professionals. We have the construction lending experience, skills and loan structure knowledge to help you secure the best loan possible for your construction project.
Business