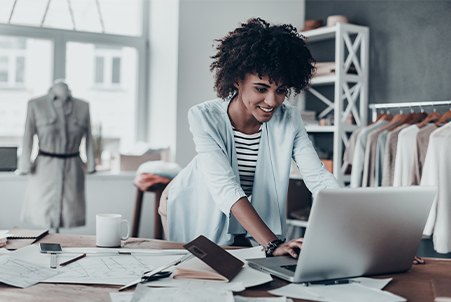 Reasons to Separate Your Business and Personal Accounts
07/01/20
Oftentimes, new entrepreneurs wonder if they need to separate their business and personal bank accounts. And without looking into the matter, many choose to just use their personal account for both purposes and never give it another thought. If this sounds familiar to you, you should know that choosing to separate your personal and business accounts is a fundamental step towards financial success. Your business is more than just a hobby, and your finances should be treated as such!
Establish Credibility
If you haven't done so already, consider establishing a separate legal entity for your business, such as an LLC, S Corp or C Corp. Not sure which of these options would work for you? Consult a legal expert or tax advisor, and also find out from your bank how these structures might affect the financing you receive. The advice of a local bank that understands your business and community is one of the best tools a business owner can utilize. Applying for an Employer Identification Number(Opens in a new window) is also an important step in verifying your business as well as establishing a professional presence. Finally, others will also see your business as more professional if they are paying to or being paid from a business account rather than a personal one.
Unlock Tax Benefits
Tax benefits are one of the biggest reasons why business owners decide to separate their accounts – and for good reason. Having a designated business account will allow you to more easily deduct business expenses such as travel, software, computers and furniture, and will make it straightforward for your accountant and the IRS as they verify those deductions. Before making any decision or taking any action that may affect your business, you should consult a qualified professional advisor.
Manage Your Business More Effectively
As a business owner, you deserve to have a clear picture of the overall financial health of your company. Keeping your accounts separate will help you determine your profit range and overall cash flow. Bookkeeping will subsequently become more manageable, and in the case of an audit, you will be able to easily provide the IRS necessary documentation.
As your business grows, you will most likely need to acquire financing and/or funding. Banks will need to see details pertaining to the financial status of your business through your accounts – and if your accounts are not separate, lenders could have difficulty doing so. Many business owners also choose to have a credit card for convenience sake, taking advantage of benefits and rewards (all while building credit). For more tips on how to better manage your business account, read our article "How to Better Manage Business Accounts".
If you have not done so already, hopefully in the future you will be in the position to bring on employees. Having a separate business account will give you the ability for relevant staff to perform banking transactions while keeping the information about your personal accounts private.
Peace of Mind
Establishing your business with its own dedicated, professional accounts can help remove a substantial amount of ambiguity surrounding your finances overall. This will help you have a much better idea of where you stand financially, both professionally and personally – giving you the confidence boost you need to be successful and reduce stress.
Choosing to have your financial assets separate will also protect you in the potential case of a dispute or lawsuit. If you find your business being sued, that would be unfortunate, but having separate accounts for your business may help protect your personal assets.
Wherever you are in your business's financial journey, we are here to support you along the way. Discover how Sunflower Bank and First National 1870 can help your business grow to its full potential.(Opens in a new window)
Business