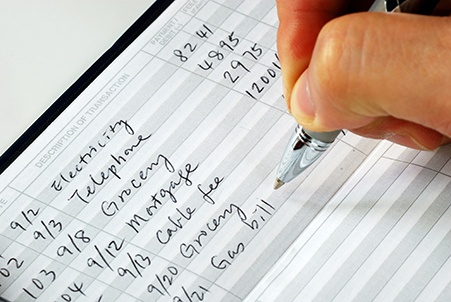 What is a Checking Account
10/18/18
What is a checking account?
A checking account is a safe place to keep your money at a financial institution. You can add money to the account (deposit) or take money out of your account (withdrawal).
A checking account's main feature is that it allows you to access your money easily, either through paper checks or debit cards. There are also many third party online options like Paypal or ApplePay that you can link to your debit card, if you wish. Unlike some other account types, checking accounts let you make as many monthly deposits and withdrawals as you want.
Why do I need a checking account?
Carrying around a stack of cash isn't practical. And storing large sums of it at your home isn't safe. That's why most people use their checking account as the central tool for managing household finances.
It's great when you want to deposit paychecks, pay bills, or make purchases and it's often used for setting up certain online electronic payments. It's easy to use Sunflower Bank and First National 1870 ATMs to get cash. And, by keeping a checking account in good standing, you're also establishing credit.
In today's world, a checking account is practically a necessity. Many employers will only pay employees through direct deposit, which is when they transfer funds into the checking account electronically.
Checking account holders also have access to our online banking system. Here, you can keep track of your balance, pay bills, deposit checks, and see your transactions from your computer or mobile device. (not sure if bill pay is free – or what other online features we want highlighted) It's free, convenient, and puts you in charge of your money.
Are there different types of checking accounts?
Yes! There are many different types of accounts with different rules and benefits.
Some accounts pay interest, where you earn money based on a percentage of your calculated balance. Many accounts also have minimum balance requirements, transaction requirements and/or overdraft features.
We offer a wide variety of accounts—there's bound to be one that you'll love. Talk to a Sunflower Bank or First National 1870 personal banker today to compare programs and find out which checking account is right for you.
Banking Education