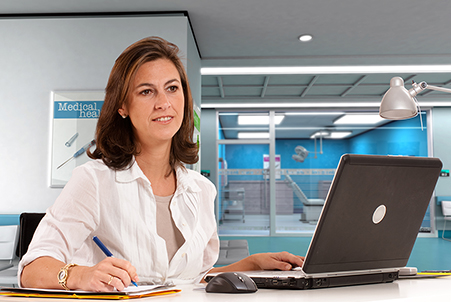 Your Patients Expect A Leading-Edge Office, But Can You Afford One?
09/19/19
To stay competitive in the healthcare market today, you need to constantly find new, innovative ways to grow and maintain your practice. You may be providing the best treatment and care, but your practice is also being evaluated daily by your patients on their total office experience, from ease of waiting room registration to exam room ambiance. Patients have high expectations—and more and more they go online to share opinions on how an office looks and whether the office and its technology seem up-to-date.

Whether your practice is newer or well-established, the major consideration in having a modern office is always the same: Cost.

How expensive is that contemporary waiting room? How much for a new EHR system? What will new x-ray machine cost? Building, remodeling, or upgrading an office places heavy demands on your budget but may also be necessary to help your business grow and flourish.
Some things to consider when planning and budgeting for your practice:
Some estimate that in 2018 commercial construction costs increased about 6% nationwide. In certain metropolitan areas, they went up even more, as much as 7.5%1. When you consider that a typical medical startup costs $350,000, depending on where you are that can mean a $26,000 increase for construction costs alone!
As technology is ever-changing, so are the options for new medical and dental equipment and systems. As new systems develop, existing equipment becomes obsolete much faster. For example, the life cycle of imaging equipment has shortened from where it was only a decade ago. And as innovations in technology accelerate, we can probably expect that life cycle to decrease even more rapidly.
You may also experience unexpected industry-related costs. A few years ago when ICD-10 was rolled out, a study forecasted that small physician practices might have to spend between $23,000 and $105,000 to implement the new coding. While the initial cost estimates turned out to be higher than the actual impact in most cases2, the unknown and unplanned expense still had a major impact on practices' financial planning and profits.

Avoid these "profit pitfalls" by planning carefully with your team of experts, especially your lending partner. Sometimes the lending policies of financial institutions have not been adjusted to take into account the current higher costs related to healthcare practices, so it can be worth your time to research and find a partner who is well-versed in the current state of the industry. We provide solutions for all aspects of practice expenses for a wide range of medical and dental specialties: increased loan amounts for startups, lines of credit for ongoing costs and expenses, and practice equity loans.
To learn more about our medical and dental financing programs or to find a healthcare banking specialist near you, visit SunflowerBank.com/FinancingPrograms or FirstNational1870.com/FinancingPrograms(Opens in a new window)

1 - Rider Levett Bucknall's First Quarter 2019 North American Quarterly Construction Cost Report
2 - Journal of AHIMA, February 2015
Business