Sign & Save Round-Up Savings
The Sign & Save Round-Up Savings¹ feature lets you put adding to your savings on autopilot. Enrollment is easy and it's free to use.
Each time you use your Sunflower Bank debit card for eligible purchases (i.e., groceries, gas, coffee), your purchase amount will be rounded to the nearest dollar, and the remaining change will be automatically transferred to your Sunflower Bank savings account.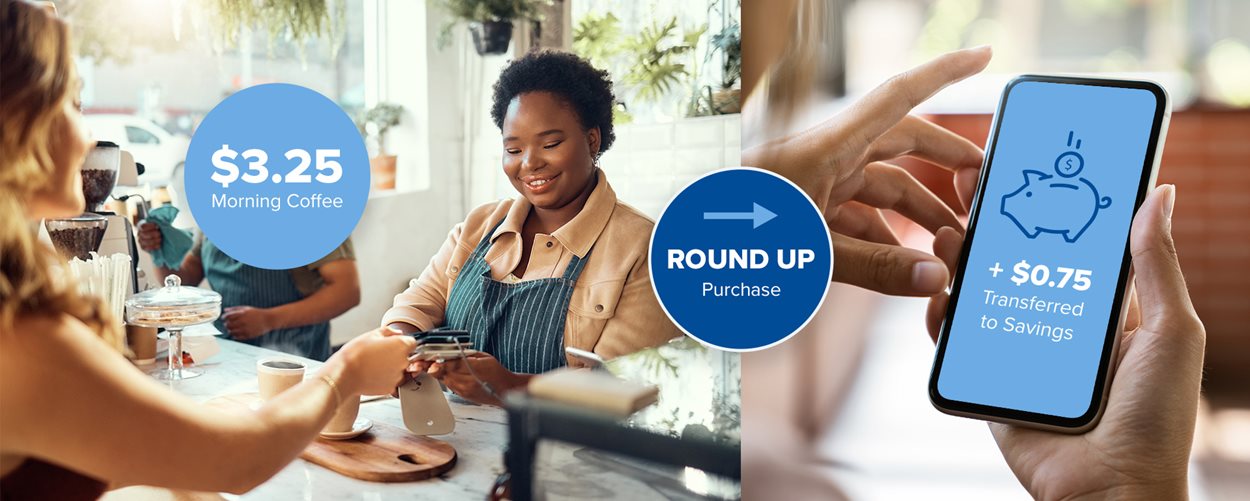 $0.75
Transferred to Savings
Personal
The following navigation utilizes arrow, enter, escape, and space bar key commands. Left and right arrows move through main tier links and expand / close menus in sub tiers. Up and Down arrows will open main tier menus and toggle through sub tier links. Enter and space open menus and escape closes them as well. Tab will move on to the next part of the site rather than go through menu items.
You'll be surprised how much a little change adds up!
To get started, you'll need a Sunflower Bank checking account with a debit card and a Sunflower Bank savings account.
Already have both accounts? Call us or stop by your local branch to get started.
We're ready to help you meet your savings goals!
¹ An eligible personal checking account (SunNet®, Foundation, Elevation, Pinnacle, and Private Banking checking) and an eligible personal savings account (Essential Savings, SunNet®Savings) are required to enroll in the Sign & Save Round-Up service. Only one checking account can be tied to a savings account. You must be an account owner on each checking and savings account to enroll in the service. All checking account point-of-sale debit card purchases (signature or pinned) will round up to the next whole dollar. Whole dollar transactions will not round up. Two transactions will be posted to your checking account when eligible debit card transactions are made while enrolled in this service. One transaction will be for the actual amount of the point-of-sale purchase, and the second for the round-up amount. The round-up is the difference between the point-of-sale purchase amount and the next higher whole dollar amount. (e.g., a point-of-sale purchase amount of $25.60 would result in a $0.40 round-up amount). If a round-up transaction would cause a checking account to become overdrawn, or if the account is already overdrawn, the round-up transaction will not occur. Refunded, canceled, or returned point-of-sale debit card transactions do not affect the already transferred round-up amount. A separate credit entry will be posted to your enrolled savings account for each round-up amount. Round-up transfers will begin the business day following service enrollment. The Sign & Save Round-Up service may be discontinued, modified, or canceled at any time.