A cybersecurity vulnerability with third-party software provider, MOVEit, has impacted thousands of companies, including Sunflower Bank. << Learn More >>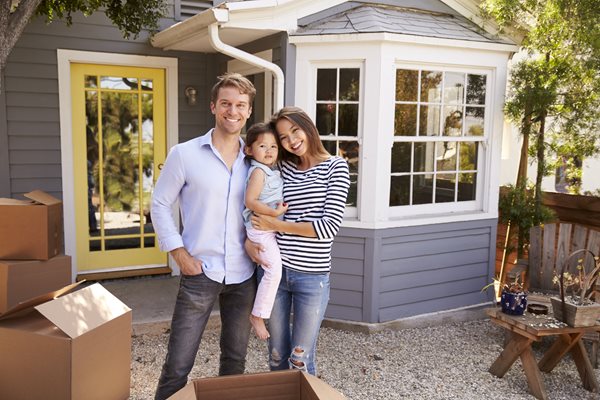 5 Tips to Saving for Your First Home
05/13/20
If you are reading this, you are either interested in or have decided to start saving for your first home. Congratulations! Renting can be expensive, and the idea of saving for your first home can be exciting and intimidating all at the same time. So, to help you financially prepare to successfully purchase your home, we broke down the process into five steps ...
Determine Your Price Range
A great place to start in the home buying process is figuring out how much home you can realistically afford. Once you consider this, you'll be able to narrow in on what your down payment could be.
A good rule of thumb is to keep your bundled monthly mortgage, property tax, and insurance payment between 25 and 30 percent of your gross monthly income. Some experts also advise that your home cost no more than two and a half times your annual salary. You may also take into consideration that a smaller, more affordable house might benefit your future financial success, especially if you are carrying a credit card or student loan debt. Utilize the mortgage calculator(Opens in a new window) to determine your monthly payments.
Prepare Your Finances for Your Down Payment and Mortgage Process
Ideally, when do you envision yourself purchasing your first home? Whatever that time frame may look like for you, it is important to set this goal ahead of time. This will give you ample room within your specific budget to prioritize saving for your down payment and future home expenses. It is never too late to readjust your overall budget to start actively saving for your future home. Visit our blog(Opens in a new window) to discover how you can make saving fun!
We suggest you make a list of all your monthly expenses, and compare that total number to your income. Determine how much you can afford to save each month, and always pay your savings account first. Setting up automatic monthly deposits into your savings account can make this priority easy.
You may have heard the myth that you'll never be able to buy a home if you can't afford a 20% down payment. We are here to let you know that simply isn't true. There is a lot that goes into picking a mortgage type, and depending on your credit score and income, and the loan you choose, you may be able to purchase a home with as little as 3% down. Use the formula listed below to determine your payment goal based on your annual income and down percentage.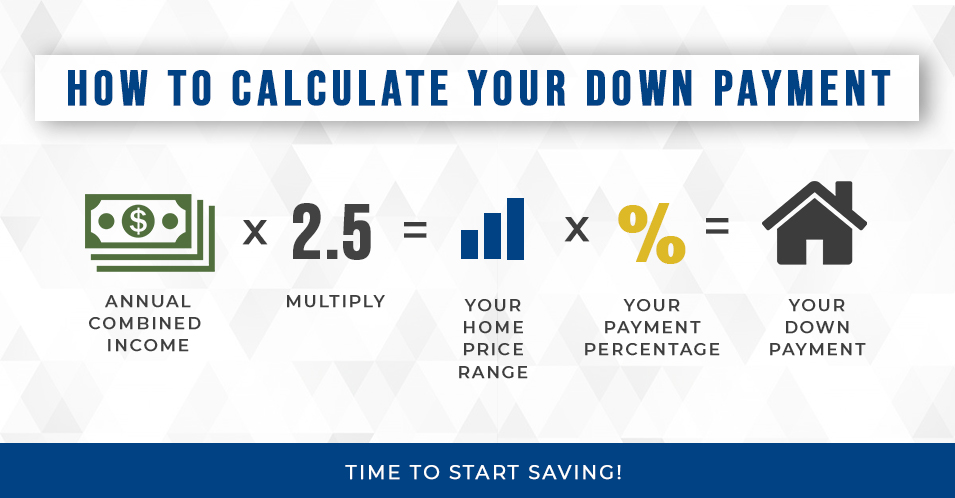 Prepare Your Credit
Your credit score plays an important role in qualifying for a mortgage. A score of 740 or above will help you secure the best interest rates. If your credit score is lower than 740, there are options available for you. You can read more on understanding credit scores on our mortgage partner's blog(Opens in a new window). Many young home buyers find themselves with blemishes on their credit report, thanks to missed student loan or credit card payments. But don't worry! If you check your credit report early, you will have time to correct most issues.
Shop for a Loan/Mortgage and Determine Your Loan Type
Mortgage loans are designed to help you make your dreams of homeownership come true. A qualified mortgage lender will share their expertise to help you determine the best potential loan type for you. This will give you a better idea of how to budget your savings goals.
Most people have heard of FHA, VA, and conventional loans, but there are many other options. Our mortgage company, Guardian Mortgage, has a line of proprietary products to fit your needs including the HOME Program, HomeOne, and the VA Lending Program. A Mortgage pre-qualification is a free and non-binding process that presents you as a qualified buyer when buying your first home. Choosing your loan type and length of loan comes later.
Our partners at Guardian Mortgage(Opens in a new window) are committed to helping you find the best mortgage plan and rate specifically for you, which will help you set your savings plan in place.
Other Expenses to Save For
As a homeowner, you will be responsible for covering unplanned and emergency costs that will inevitably arise, in addition to your overall mortgage costs. New homeowners should have the goal to set aside savings for these expenses, which may include repairs, property taxes, HOA fees, utilities and other costs. A good and realistic initial goal to set would be to have $3,000 saved for an emergency fund.
To find out more on how to make your home-buying dreams a reality, please visit our mortgage partners, Guardian Mortgage(Opens in a new window), here to review your options, and get in touch with an advisor who will help you towards your goals and future success!
Banking Education