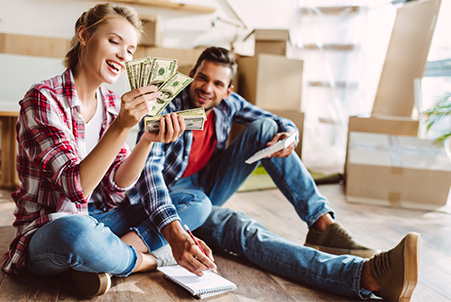 Fun Ways to Save
06/27/19
Saving money doesn't have to be something you dread. Whether you're just beginning a path to financial responsibility or you've been handling your finances successfully for years, adding variety to your savings routine can keep you on track. Why not have some fun with it?
Take the 52-week savings challenge
The idea is simple: Put $1 in your savings account the first week, $2 the second week, $3 the third week, and so on… after 52 weeks, you'll have saved $1,378 (and that doesn't include interest)! You don't have to begin in January—you can start today. In fact, try this—write the numbers 1 through 52 on a sheet of paper and then cross off the amount you put towards savings each week until you've checked off all 52. That way, you can save as you are able and the larger amounts don't happen all at once.
Cooking is cool
Cooking is a lifelong skill that can save you thousands of dollars over the cost of eating out. If you're new to preparing food at home, start small and don't be intimidated. Make yourself a grilled cheese and soup or a simple salad. Concentrate on recipes using ingredients that give you the most value for your money, such as carrots, white or sweet potatoes, eggs, pasta, rice, and oats. There are many websites that can provide recipes based on ingredients you already have on hand. Plus, getting friends together for a potluck is great entertainment and saves money on going out!
Shop your closet
How many times have you purchased shoes or clothing and then realized that nearly the exact same item was already in the back of a drawer or closet? Go through every item of clothing that you own and discover some forgotten treasures. Or better yet, organize a swap with friends. You'll all go home with "new" clothes and you won't have spent a dime.
Automate your savings
An automated transfer into your account is one of the easiest tools you can use to grow your savings. Plus, it's fun to use online banking! Set up a recurring transfer and select the frequency that fits your needs. Choose an amount and then select daily, weekly, bi-weekly and more… all the way up to yearly. You can also move money from your paycheck straight into savings via your employer's direct deposit as another way to eliminate the temptation to spend before you save.
Sell unwanted stuff
Garage sales. Online marketplaces. Resale and consignment shops. There are several places to sell your unwanted items and each has benefits and drawbacks. Doing some research by checking sales prices on closed online auctions is a good starting point for determining your item's value. If you're going to sell online, take the time to post quality pictures and good descriptions. And don't forget that sometimes the real bonus of getting rid of things isn't the money—it's the extra space and the freedom of decluttering.
Activities, not things
Some of the best things in life really are free. Go to the public library and check out books, music, DVDs and special programs. Get out in nature and explore public parks and trails. Visit a free museum. Get together with like-minded people by using meetup websites or local bulletin boards. Kids will love a large cardboard box more than the latest expensive toy. When you make awesome activities the center of your social life instead of spending money on items, your whole world broadens.
We hope you try out some of these tips and find the fun in saving money. We're here to help you make the most out of your money and get the most out of life. For those larger savings goals, check out our savings calculator to help you figure out the right amount and time period needed to achieve the goal. We are always here to help, visit a location today or contact your personal banker.
Banking Education