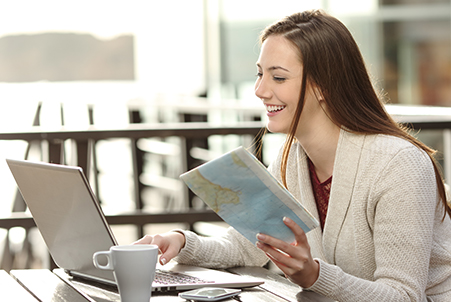 Preparing for Life's Milestones
07/22/20
Without question, the joy that comes from life's milestone moments is simply priceless. At the same time, there is typically a very real and tangible financial cost associated with though moments that unfortunately can catch us unawares. Being better prepared and taking the journey in greater stride can start with an easy step: opening your first checking account. From there, taking additional measures to secure your financial picture along the way should make each milestone in life relatively worry-free from a monetary standpoint – and someday, you'll be stepping into retirement having crossed the financial finish line with success. Sunflower Bank is here to help create possibility in your life. We understand and value the unique needs of our customers, to help them achieve their goals. Whatever your milestone journey may look like, we are here to help you each step along the way.
Buying Your First Car
Purchasing a first car can be one of the most empowering experiences of your financial journey. Just the thought of hitting the road and cruising around in your own, newly-purchased car is enough to motivate anyone to start saving! So make yourself familiar with the car-buying process as you start to prepare your finances, and determine the price range for type of vehicle you wish to buy. And remember the actual cost of owning a car isn't limited to just the car itself. Make sure you budget for everything from gas to insurance to new tires, just to name a few ad hoc expenses. Many car dealership commercials talk about "just putting a dime down" for a down payment, but we recommend putting a more substantial amount down than that, and secure the rest in an auto loan for lower monthly payments.
Budgeting While in College
Spending the time and money to invest in your education, and thus your future, is a worthy endeavor, but college does pose many financial costs that, if handled poorly, can have a reverberating effect in the form of burdensome debt for years or even decades. How are you planning to pay for your schooling? If you have family that can financially support your education, great. But if you're like most of us, consider starting by putting extra effort into applying for scholarships, or participating in work-study programs. While there is no shame in taking out student loans when needed, we advise you to be strategic in how you do so, based on your future goals. It is also important during this time not to accumulate consumer debt that can haunt you in the years to come as well. College represents a time in life to exercise financial acuity and restraint. Setting up a monthly budget and financial overview each year while you are in school should set you up for success well after graduation.­­ Get started on planning out your budgeting and savings goals by utilizing our Savings Goal Calculator.(Opens in a new window)
Family Expansion
We know that sharing life's milestones with those you love can be one of life's greatest joys, and adding to your immediate family structure can look different for everyone. Depending on your approach, family expansion may include decisions such as combining financial accounts with your spouse or partner, saving and planning for a wedding, or preparing your home and finances for a child, just to name a few. As these plans are pursued, many people can find themselves surprised at the financial aspects and time-consuming steps it can take to get their financing in order when they are faced with them head-on. Not to mention, financing is one of the easiest things to disagree on, which can add another element of stress to the mix. We recommend taking steps to avoid that stress by asking yourself questions prior to these events such as, "Do we want to spend more money on our 'dream wedding,' or save some of that money for our next big vacation?" We understand every family unit has different goals, and being aware of your priorities will help you budget well and be successful, together!
Buying a Home
Whether you are preparing to purchase your first home, or refinance or sell your current home, each of these goals requires a different set of knowledge and planning together. If you do plan on becoming a homeowner, it is important to set yourself up for success from the beginning of the process. Find out your home's price range based on your combined income, and adjust your budget to save and pay for your down payment and mortgage costs. At the same time, make a list of any current or upcoming life changes, making note of the anticipated expenses associated with each, and factor them in when planning for your next home. If you're open to the notion, it is never a bad idea to consider downsizing as well! For tips on how to save for your first home, read our article 5 Tips to Saving for Your First Home
Retirement
Saving for retirement is one of the biggest financial challenges and concerns among working Americans. You may just be in the early steps of saving for retirement, or maybe you are expecting to retire in the near future. Regardless, there is no "one plan" for retirement that works for all, but there are important, general steps in preparing for and transitioning into retirement, based on your age, income and needs. The key is to get started, and then stick with a plan. And the sooner you get started, the better, no matter what your age.
If you are in a position to do so, take advantage of your employer's 401k plan as an essential part of your retirement plan strategy. Another tactic is to open a retirement account, such as an IRA, and when it is your time to retire, your local bank or financial advisor can help you make the withdrawals needed to cover the expenses associated with your life picture. There are certain money "marks" experts recommend hitting based on a person's age as they plan for retirement. A standard suggestion is to have one times your annual income saved by age 30, twice your income by 40, and so on. Discover more ways our team can help you manage your wealth, and prepare your finances for retirement.(Opens in a new window)
Lastly, securing your legacy is an important milestone to consider when transitioning into the final steps of your financial journey. Educating your family so that they can become financially independent, helping them through any schooling, and securing your will are all highly-recommended steps to consider during retirement age.
Banking Education