A cybersecurity vulnerability with third-party software provider, MOVEit, has impacted thousands of companies, including Sunflower Bank. << Learn More >>
About Sunflower Bank, N.A.
Operating as Sunflower Bank, First National 1870 and Guardian Mortgage, Sunflower Bank, N.A. provides financial solutions to the individual communities we serve through a full range of relationship-focused services to meet personal, business and wealth management financial objectives.

Whether you know us as Sunflower Bank, First National 1870 or Guardian Mortgage, our philosophy is simple: we offer a full range of financial products that create possibility in the lives we touch and the communities we serve. We value the needs of each customer and partner with them to help achieve their goals with innovative solutions delivered through a regional structure that provides local expertise.
We are proud of our longevity and the long-term relationships it represents. Sunflower Bank was founded in 1892. We operate as First National 1870 in Albuquerque, Los Alamos and Santa Fe, New Mexico with roots dating back to 1870. Additionally, Guardian Mortgage, our residential mortgage division, has helped generations of valued customers across our footprint and beyond realize their dreams of homeownership.


65 personal banking locations

Originate mortgages in 40+ states
Sunflower Bank, N.A. has $7.8 billion in assets as of June 30, 2023, headquarters in Denver, 65 personal banking locations in five states, and mortgage capabilities in more than 40 states. FirstSun Capital Bancorp (OTCQX: FSUN) is the financial holding company for Sunflower Bank, N.A.
About Us
The following navigation utilizes arrow, enter, escape, and space bar key commands. Left and right arrows move through main tier links and expand / close menus in sub tiers. Up and Down arrows will open main tier menus and toggle through sub tier links. Enter and space open menus and escape closes them as well. Tab will move on to the next part of the site rather than go through menu items.
Check Out Our Other Websites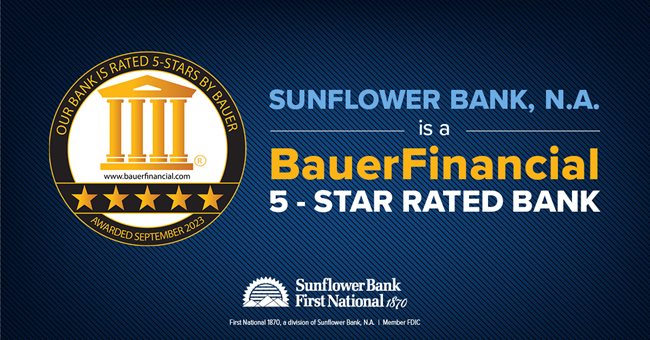 BauerFinancial 5-Star Rated Bank, September 2023
We are proud to be recognized as a BauerFinancial 5-Star rated bank for another consecutive quarter. The designation represents a Superior rating and recommendation from this leading independent bank research firm.
Sunflower Bank, N.A. Named a Top 10 Commercial Lender by Independent Banker
We are proud to be named one of the top 10 Commercial lenders with more than $1 billion in assets by Independent Banker, the award-winning magazine of the Independent Community Bankers of America. It's an honor to be recognized for this achievement among our community bank peers. We look forward to building on this momentum and continuing to cultivate full relationships that support business growth in our Sunflower Bank and First National 1870 communities.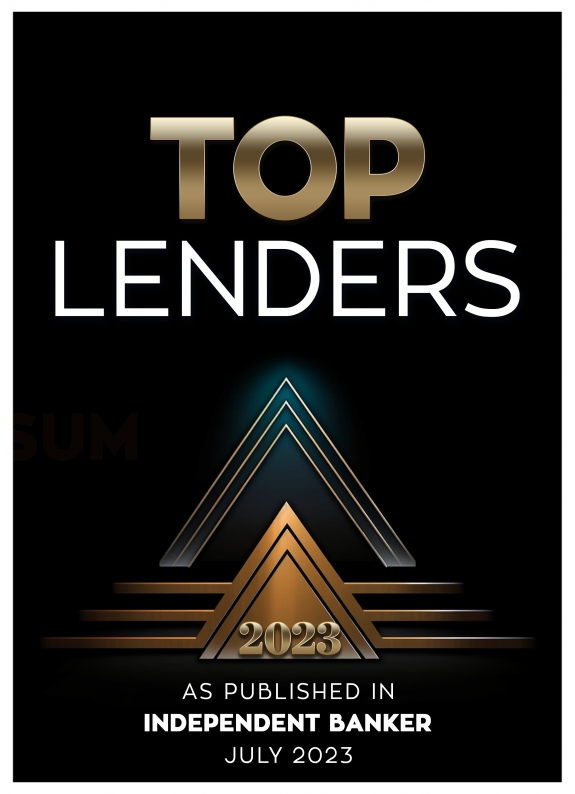 Learn More About Sunflower Bank, N.A.