Sunflower Bank Raises Over $52,000 to Benefit Make-A-Wish Arizona
We're proud to announce that Sunflower Bank raised over $52,000 to benefit Make-A-Wish Arizona by hosting our first Rally Through the Valley event in Scottsdale on Saturday, September 23, 2023.
Sunflower Bank has been a longtime corporate sponsor of Make-A-Wish, but this year, Commercial Banking Team Lead Scott Sipe wanted to make an even bigger local impact. He and Business Banking Client Manager Ian McKay decided to build an event around their shared love of cars to drive for donations. Thus, Rally Through the Valley was born.
With the support of Chief Banking Officer Chris Rude, Sunflower Bank provided an initial donation of $10,000, hoping to exceed that amount in matching donations and event participation. The primary source of additional support came from selling tickets to participate in the Rally, at a cost $500 per car.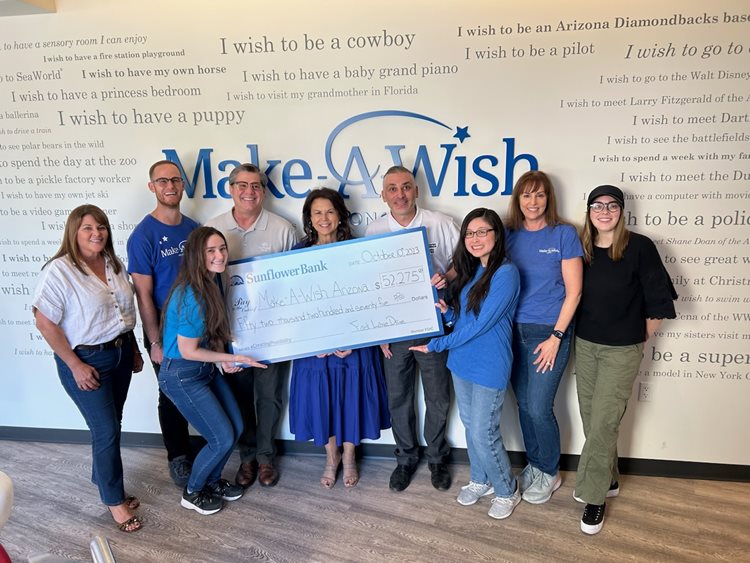 The event was an all-day affair, beginning at a local high-quality storage facility for car enthusiasts called The Vault of Scottsdale. At The Vault, the nearly 30 racing participants enjoyed breakfast and met to go over the day's schedule. From there, everyone went to The Podium Club at Attesa racetrack, where drivers had the opportunity to experience racing their cars on the track in groupings based on their individual experience levels. An anonymous member of The Podium Club even contributed $10,000.
"This was a lot of work, and there were many sleepless nights spent hoping things would go well, but it was so worth it and so rewarding. We were blown away at the support."
"I am extremely grateful to our partners at Sunflower Bank for raising more than $52,000 for Make-A-Wish Arizona. This donation will undoubtably impact the lives of our wish kids and empower Make-A-Wish Arizona to continue our mission of bringing joy, hope, and transformative wishes to children facing critical illnesses."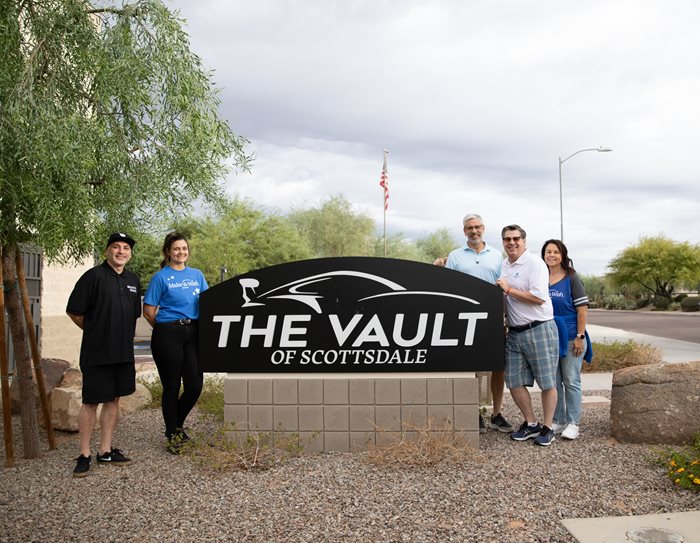 "Make-A-Wish Arizona is incredibly proud of all the hard work that Sunflower Bank put into planning Rally Through the Valley," added Kelly McKeever of Make-A-Wish Arizona. "We are grateful to all the supporters who came the event and showed such kindness to our organization. We are deeply appreciative and can't wait to work with Sunflower Bank on more events in the future!"
We share Make-A-Wish Arizona's pride in our Arizona team's accomplishments and are thrilled to have assisted a local non-profit in support of Sunflower Bank's mission "Bringing out the best in the lives we touch... Creating Possibility."
diverse hands coming together
Community Impact Stories
Our focus on improving the communities we serve allows us to discover truly remarkable opportunities to contribute to all of our communities, financial and otherwise, and build lasting connections that impact our communities for years to come!
See All Stories
family photo with everyone smiling
See More Community Involvement Efforts
We believe in creating possibility at both the individual and community level. Everything we do as an organization should have a positive impact on the people with whom we interact.
Learn More