Sunflower Bank, N.A. Named to ICBA's Independent Banker Top Commercial Lenders List
September 06, 2023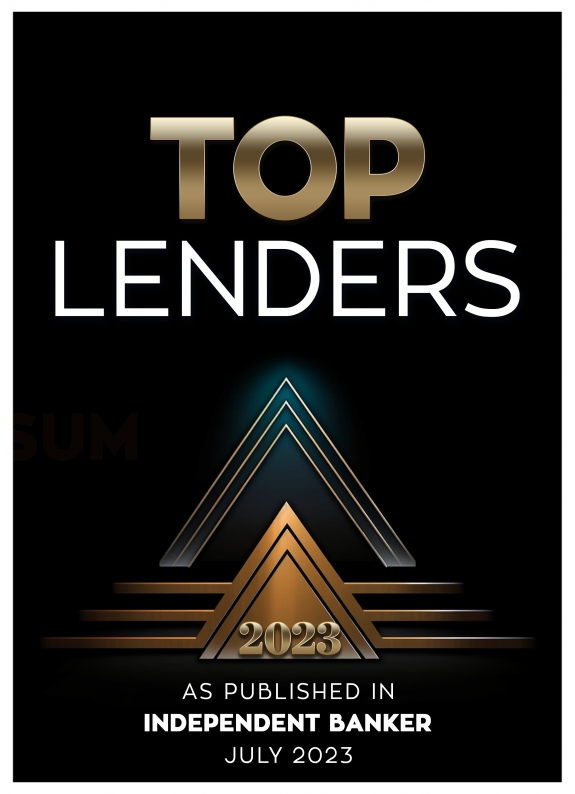 We're proud to announce that Sunflower Bank, N.A. was named as one of the top 10 Commercial lenders with more than $1 billion in assets by Independent Banker, the award-winning magazine of the Independent Community Bankers of America (ICBA).
"Community banks are pillars of their communities and work hard every day to serve the unique needs of their local customers," ICBA President and CEO Rebeca Romero Rainey said. "These Top Lenders have combined ingenuity with the hallmarks that make community banking so special. They should take pride in this recognition, knowing that their work makes a positive impact in helping their communities flourish."
"It's an honor to be recognized by ICBA Independent Banker as a top 10 commercial lender among our community bank peers. With our strong capital base and commitment to credit quality, we are excited to build on this momentum and continue cultivating full relationships that support business growth in our Sunflower Bank and First National 1870 communities," said Brian Walsh, Chief Lending Officer of Sunflower Bank, N.A.
Using FDIC data for 2022, Independent Banker calculated a lender score out of 100 for each community bank. The score combines the average of the bank's percentile rank for lending concentration and for loan growth in each lending category over the past year. Independent Banker then adjusted each score for loan charge-offs in each category at certain percentile thresholds. For complete rankings, read the full article "Who are ICBA's Top Lenders of 2023?" published on July 3, 2023.
About Sunflower Bank, N.A.
Operating as Sunflower Bank, First National 1870 and Guardian Mortgage, Sunflower Bank, N.A. provides financial solutions to the individual communities it serves. With $7.8 billion in assets as of June 30, 2023, headquarters in Denver, bank locations in five states, and mortgage capabilities in more than 40 states, Sunflower Bank, N.A. provides a full range of relationship-focused services to meet personal, business and wealth management financial objectives. Member FDIC. Equal Housing Lender. First National 1870 and Guardian Mortgage are divisions of Sunflower Bank, N.A. To learn more visit SunflowerBank.com, FirstNational1870.com or GuardianMortgageOnline.com.
About ICBA
The Independent Community Bankers of America® creates and promotes an environment where community banks flourish. ICBA is dedicated exclusively to representing the interests of the community banking industry and its membership through effective advocacy, best-in-class education, and high-quality products and services.
With nearly 50,000 locations nationwide, community banks employ nearly 700,000 Americans and are the only physical banking presence in one in three U.S. counties. Holding $5.8 trillion in assets, $4.8 trillion in deposits, and $3.8 trillion in loans to consumers, small businesses and the agricultural community, community banks channel local deposits into the Main Streets and neighborhoods they serve, spurring job creation, fostering innovation and fueling their customers' dreams in communities throughout America. For more information, visit ICBA's website at www.icba.org.
Contacts
Sunflower Bank, N.A. Media Relations
Jeanne Lipson
Vice President, Marketing