J. Dee Dennis, Jr. Joins Sunflower Bank's Board of Directors
May 18, 2020
Sunflower Bank announces that J. Dee "Dee" Dennis, Jr., founder of DKD Electric, LLC, has joined Sunflower Bank's Board of Directors.

Dennis has more than 40 years of experience building and growing businesses. He founded DKD Electric Company in 1978, and led the New Mexico owned and operated enterprise until it went public in 1999. Dennis then became regional operating officer for IES, the publicly-traded company, overseeing 27 businesses. In 2005, Dennis led a group of investors that took DKD private, building it into the large regional contractor it is today. From 2010-2013, he served as the state of New Mexico's Cabinet Secretary of Regulations and Licensing Department (RLD), overseeing the Securities, Financial Institutions, Construction Industry, Alcohol and Gaming divisions, along with 32 Boards and Commissions.

A proud New Mexican, Dennis is dedicated to making a positive impact on its communities and businesses. He has served on numerous boards and service panels including Children's Cancer Fund of New Mexico, Associated General Contractors, Associated Builders and Contractors, University of New Mexico Lobo Club, and Independent Electrical Contractors.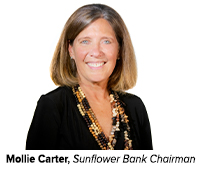 "Dee is a successful leader with a deep commitment to meeting the critical infrastructure needs of businesses and communities," said Mollie Carter, chairman of Sunflower Bank. "His expertise in diversified companies and regulated industries, as well as his strong roots in New Mexico will provide great contributions to the Sunflower Bank Board and our Sunflower Bank, First National 1870 and Guardian Mortgage divisions."

"I am very pleased to be a board director of Sunflower Bank and be a part of its 150 year history in New Mexico through First National 1870. The bank is making significant investments in New Mexico and throughout all its markets. I know the importance of having strong, stable financial institutions and I look forward to helping deliver this benefit to all of the bank's customers and communities," stated Dennis.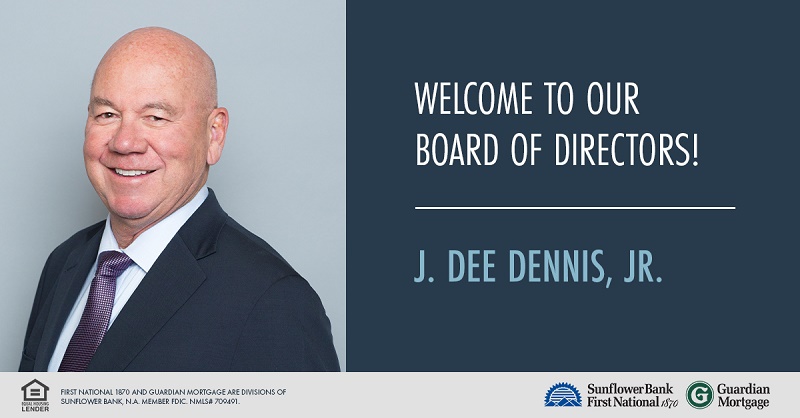 Contacts
Sunflower Bank, N.A. Media Relations
Jeanne Lipson
Vice President, Marketing