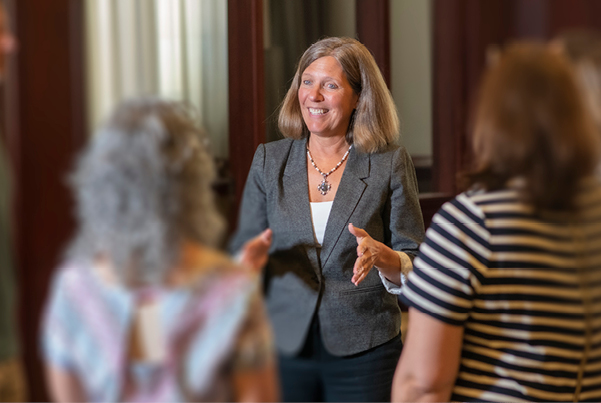 Creating Possibility by Creating a Legacy
07/15/21
Possessing a charter that dates back to 1892, Sunflower Bank has demonstrated its ability to endure, whether it be through economic cycles, times of social change, or other competitive forces. But it's more than persevering; it's about creating a legacy that makes us proud and provides a solid foundation for the future. At Sunflower Bank and our divisions – First National 1870 and Guardian Mortgage – we embrace this statement to reflect our dedication to our customers and the communities we serve:

Bringing out the best in the lives we touch … Creating Possibility.

With this simple statement, we affirm our commitment to align our business with our customers, communities, and fellow associates. Taken as a whole, we find this, our purpose, quite powerful, and its strength comes from the elements within the statement.
In The Lives We Touch
I like to begin in the middle: "in the lives we touch." This serves as an important reminder that our products, services and interactions impact others – not just within Sunflower Bank but also all those around us. Whether we are helping a new customer navigate a mortgage on their first home, assisting a couple planning for their retirement, or giving a dog biscuit to our customer's furry companion in a drive-through lane, we are touching lives. And those interactions very quickly translate into the actions our customers have with others. We remind our associates that the way we interact with one another during the workday, especially the more challenging days, carries through to the interactions we have once the workday is done – with our families, our friends and our community. It is not just what we do but how we do it, creating a lasting legacy that matters.
One of my favorite examples of the importance of interaction is a story that came to my attention out of the blue. One of our employees was approached in a restaurant by someone who noticed our logo on his shirt and asked if he worked for Sunflower Bank. When our employee told them he did, the person proceeded to relay the story of how grateful they were to our team in the workout department. This customer had gotten into a bit of trouble and was behind on their loan payments. When the workout department contacted them, they said the bank associate was kind, patient and respectful. Together, they worked out a repayment plan, and the employee offered ideas to the customer on how to better manage their finances. The customer was excited to share how much they appreciated how they were treated. As a relationship-focused bank, we must never forget that we are touching lives and impacting others.
Bringing Out The Best
Next, let's discuss "bringing out the best." Sunflower Bank is built on a culture of community. We know what it means to pull together and have fun. In every place we serve, it's not just about relationships; it is about making each other better. We believe that bringing out the best is not only about being friendly, efficient and helpful; it's also about educating, coaching, brainstorming and having difficult conversations when necessary. Our approach has proven to be powerful, and greater than the results we achieve. Rather than focus solely on immediate outcomes, we remind ourselves to use our gifts to help shape our bank's future and the futures of those we touch. The leadership we bring to our communities, our associates' commitment, and the straightforward way we conduct ourselves with our customers make us grow more capable and stronger. Bringing out the best allows us to transform the towns and cities where we live and work for the better.
To that point, it is not only about bringing out the best when we provide business loans or mortgages – it's just as meaningful to have conversations with our customers when troubling trends start … before they become a problem. We do our homework to make sure we are not simply responding to loan requests or setting up investment accounts. We take it one step further by ensuring the relationship we establish will be mutually beneficial for the long term. Rather than having an "all things to all people" approach, Sunflower Bank and our divisions offer specialty banking services to make sure we can serve our customers with the best possible product lines. We provide asset-based lending and Small Business Administration loans, technology, healthcare and construction trades specialties. We are committed to bringing out the best by applying the necessary resources to meet our customers' needs.
Since we are deeply involved in our communities, we make connections that make a difference. We create peer-to-peer connections to help our customers solve problems and to help them when they seek specific resources. We facilitate investment capital to customers ready to make a transition in their lives or their businesses. Being community-minded bankers with specialty services and access to capital helps our customers and communities become more robust and grow. We get better together.
Creating Possibility
The final piece of our mission statement is "Creating Possibility," which is an incredibly empowering concept. It comes from the belief that there is a tremendous opportunity for each of us if we just put our efforts toward seeking it out and, in some cases, causing it to happen. Sunflower Bank and our associates are deeply committed to the success of each of our communities in Arizona, Colorado, Kansas, New Mexico and Texas. We serve different types of markets, some quite large and dynamic, others small and stable. Within all these markets, our leadership is local and truly reflects the communities they serve. After all, these are the places in which we live, play and raise our families. We believe that our communities have the ingenuity, drive and resources necessary to grow. And we strive to support that belief not only through the banking services we bring, but by developing leaders within the bank, at the businesses we help, and in the organizations we support. It is this leadership that makes communities grow stronger, and enables them to find the solutions that generate progress. In a "Creating Possibility" mindset, we believe that the greatest gift we can contribute is the will to get things done. Whether it is within our own organization or in the greater community, we believe collaboration – people working together with a common goal – is key to creating the possibility of change.
Of course, the most recent call to action was the Paycheck Protection Program (PPP) of 2020. When our country was in crisis, Congress directed the Small Business Administration to implement this program working through banks. The "Possibility" before us had multiple facets. The rollout had to be quick but agile since the terms of the program were evolving and changing rapidly. Further, due to our experience with SBA programs, we knew that capturing and retaining the necessary information to guard our customers' eligibility for loan forgiveness would be crucial. And finally, with any program of the magnitude of PPP, we needed to be diligent about protecting the bank, and the country, from fraud.
In an impressive effort, teams from technology, credit, human resources and compliance pulled together quickly to design and build a system ready to offer Paycheck Protection loans. We are incredibly proud of our associates who worked tirelessly to guide our customers through this complicated process. Like community banks across the country, we focused on the needs of our customers and communities to deploy these funds to qualified applicants. These dollars enabled businesses in our communities to maintain payroll for their employees and to help alleviate just a bit of the uncertainty surrounding the abrupt change to our world. Again, we are incredibly proud of what we were able to accomplish.
At Sunflower Bank, It's About Character
We often hear, "It's not just what you do, but how you do it." At the end of the day, what we've accomplished for our customers, and what we've achieved for our professional standing and reputation, is balanced out by how we've lifted up those we serve – how we approach challenges and opportunities with a mindset of positivity. Our mission is to bring out the best in the lives we touch and create possibility for them. This reminds us each day that our work is meaningful, purposeful, and makes a difference for our customers, colleagues and communities.
Chairman's Insights