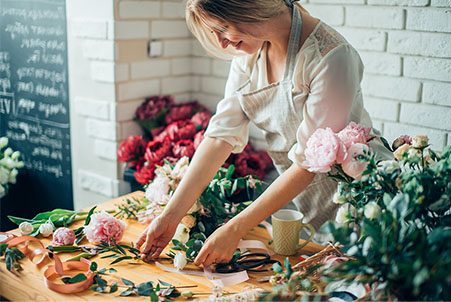 Make a Difference: Shop Small, Shop Local
11/26/19
For a little over a decade, the Saturday after Thanksgiving has been designated Small Business Saturday, a campaign which encourages Americans to patronize local merchants. The day is incredibly popular and still gaining momentum; spending on Small Business Saturday has now totaled an estimated $103 billion1. The day brings awareness to the value of supporting local merchants and the positive impact it has on communities year-round. From florists and bakeries to diners, coffee shops, and book stores, you make a big difference when you shop small.
Make an impact on the local economy
Although it is easy to sit at home and order merchandise from a smart phone, there is little local economic benefit to these anonymous transactions. Buying from internet retailers creates almost zero positive impact to your community besides a few minutes' work for local delivery employees. But when you support locally-owned independent businesses, you boost the economy where you live. Several studies have cited the multiplier effect2: Independent retailers return more than three times as much money to their community per sales dollar than chain competitors. Plus, a thriving local economy brings more employment opportunities, better schools, roads, and public services for residents.
Take pride in your community
When you shop small you are not only helping the local economy, you're celebrating the things that make your community unique. Instead of a run-of-the-mill chain offering, why not try an independent restaurant, boutique, or coffee shop for an experience you can't get anywhere else? Support a local artisan who creates goods influenced by your geographical location and uses local resources. You'll help preserve the unique flavor of your area, gain one-of-a-kind experiences, and walk away with increased pride in the place where you live.
Get more value
Local merchants offer incredible expertise, insight, and advice that internet retailers just can't provide. When you shop small business, you often collaborate directly with the business owner—someone who knows the market and the product from top to bottom. Shopping local businesses gives you the opportunity to meet business leaders and benefit from their experience. Plus, a local merchant offers a level of service that you can never get from an anonymous online site or a 1-800 number. Local businesses have more invested in customer satisfaction than big box stores do. They can make suggestions or resolve issues with a helpful attitude on the spot, without layers of corporate approval.
Support small business every day
Whether you are participating in Small Business Saturday, doing your regular grocery shopping, or looking for that special gift -- any time of the year is a great opportunity to shop locally. When you support local businesses you're benefitting your community, the economy, and ultimately yourself. As part of your local communities, Sunflower Bank and First National 1870 are extremely proud of the role we all play in helping small businesses.

1Surveys commissioned by American Express, https://www.americanexpress.com/us/small-business/shop-small/about
2American Independent Business Alliance, https://www.amiba.net/resources/multiplier-effect/
Banking Education