El Paso Holiday Model Train Display
We're excited to bring back our El Paso Holiday Model Train Display presented in partnership with the Railroad Model and Historical Association of El Paso ("EPMR") for a third year, running November 20 - December 29!
Children, families and the young at heart are welcome to view the Polar ExpressTM display that is free and open to the public at our downtown El Paso branch. Special thanks to EPMR for designing the layout and providing the expertise to manage the exhibit and maintain the running of the trains.
Join Us at our Downtown El Paso Branch
Monday, Nov. 20 through Friday, Dec. 29, 2023
Trains run Monday through Friday (excluding bank holidays on 11/23 and 12/25):
11:30 a.m. – 1:00 p.m. and 3:30 p.m. - 5:00 p.m.
201 E. Main, Suite 200, El Paso, TX 79901
School groups are encouraged to reach out for more information by calling 915.881.6702.
About the Railroad Model and Historical Association of El Paso ("EPMR")
Established in 1950 at the old Lower Beaumont Army Hospital in El Paso, Texas the EPMR has a long history of sharing the art and science of model and full-scale railroading with the El Paso, Texas and Juarez, Mexico communities. Given the early creation of the association it is certainly one of the older model railroad clubs in the country.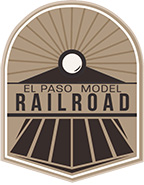 To learn more about EPMR, to become a member or donate, visit https://epmr.shutterfly.com or EPMR's Facebook page.
In 1964 the club moved to the basement of the downtown El Paso Toltec Building. It was at that location that the practice of holding annual model train shows began in 1972. For the next fifteen years the club's display moved a few times while keeping the practice of holding open houses continued with well-attended events.
A major change occurred in February 1986 when the club incorporated as a Section 501 (c)(3) non-profit organization and changed to its current name: The Railroad Model and Historical Association of El Paso, Inc. One more move in 1986 brought the association to its current location, 6335 Vaughn Court, between Alameda and Delta Streets in El Paso. While original purpose of the building is unclear, the EPMR was able to use its ample space to accommodate a massive model layout built just for the new location.
In December 1994 the EPMR purchased the Vaughn Court building, making the location its permanent home. This location has become a gathering place for train enthusiasts old and young, allowing some to experience the excitement of running model trains for the first time or allowing others to recapture an important part of their youth. The 1700+ sq. ft. building houses a wealth of historical model railroad publications including copies of Model Railroader dating back to 1934. Several replicas of historically important railroad engines are on display as well. Three different scales – O, HO and N – represent the last one hundred years of railroad history. These scale layouts, the most popular in model railroading, consist of a multiple track O layout on a 4'10" x 16' platform, an HO layout with 910 feet of track–the equivalent of 15 miles in HO scale and an N layout that covers the majority of the rear of the building.
As a part of its outreach and educational program, the EPMR sponsors model train exhibitions at numerous public locations throughout the area. The histories of railroads in the Southwest and beyond are part of these events. These exhibitions bring the art and science of design, operation, and maintenance of railroad models to a larger audience in the community. The association also conducts workshops to share and develop skills in scenery design and construction, model engine maintenance and repair, weathering of rolling stock, etc.
The Train House is open to the public each Thursday from 7 p.m. to 9 p.m.
The EPMR holds spring, fall open house, and maintains it long standing tradition of annual open house events each Sunday in November from 1 p.m. to 4 p.m. These events are free and are open to the public. As a 501 (c)(3) nonprofit organization, membership is open to all, monthly dues remain minimal, and donations are welcome.